To resize
Use the Resize option to enlarge or reduce the size of your pictures. You may choose
Edit - Resize
at the
Menu bar
or click
Image transformations
at the
Process toolbar
and choose
Resize
. Here is the Resize option screen: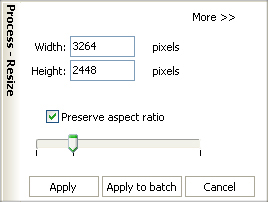 You can set the new size by either dragging the edges of the frame or by entering the picture width and height (both in pixels and percentage).
You can also select whether to keep or ignore the aspect ratio. When you check the "Preserve aspect ratio" box, image proportions won't be changed.
More settings available for the Resize, Rotate, Projective, Anti projective and Horizon strengthening options include Lanczos resampling, Linear resampling, Mitchell resampling and Nearest resampling. Resampling changes the number of pixels in an image, and is used to achieve a better output when the image size is in any way changed.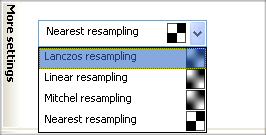 Click Apply you want to apply changes to one file. If you don't like effect, use CTRL+Z combination or Edit -> Undo from the menu bar to move back to the original image.
Choose the quality of the output JPEG file:

And click Save.

Download and try ReaJPEG for free!