Watermark photos, add borders
ReaJPEG is a great tool for performing different kinds of photo manipulations, such as image transformations, addition of watermarks and borders, color adjustments, application of artistic and geometric effects, red eye removal.

Watermarks and borders: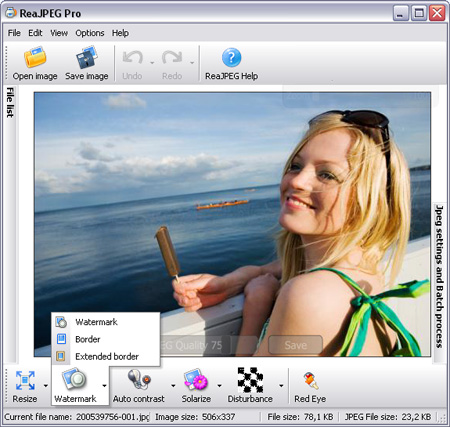 Watermark ReaJPEG gives you a choice to add either image or text watermarks to your pictures. The Watermark transparency option allows to make your watermark as transparent as you need. You can also add a color border to your watermark, specify the background color and its transparency, choose the position of the watermark on the image, etc.
Border You can add a rectangular overlay or margin border to your pictures. It is also possible to specify the border color, width and transparency.
Extended border * With the Extended border feature you can add different artistic borders to your pictures.

* - All features marked with an asterix are available in ReaJPEG Pro edition only.

ReaJPEG features

Download and try ReaJPEG for free!

If you have any questions on how to use our batch photo editor and converter ReaJPEG, please refer to our support section for description on available support options and our contact information.