ReaJPEG photo enhancements and repairs
ReaJPEG is a great tool for performing different kinds of photo manipulations, such as image transformations, addition of watermarks and borders, color adjustments, application of artistic and geometric effects, red eye removal.

Geometric effects: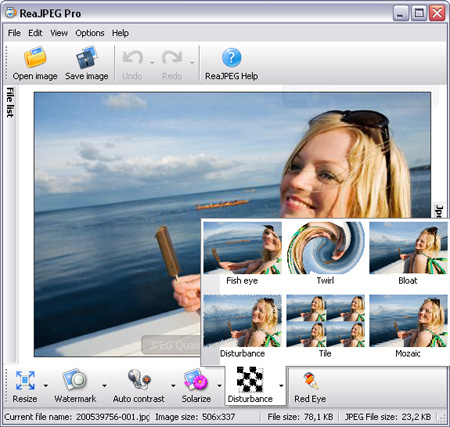 Disturbance The Disturbance effect adds random ripples to your pictures.
Fish eye Use the Fisheye effect to automatically apply a fisheye lens view to your pictures.
Twirl Applying the Twirl effect, you can give your images and photos a special spiral-like look.
Bloat The Bloat effect produces an impression that your images/photos are blown up.
Tile As the result of using the Tile effect, your picture is reproduced by its multiple copies as if it was paved with tiles. You can specify the exact number of horizontal and vertical blocks (for example, 5å5, 10å10, etc.), increase or decrease their number.
Mosaic Fills in an image with small rectangles. One of the possible reasons to use the Mosaic effect is to simulate the low-resolution display. All geometric effects can be applied to an entire image, or to a selection. More settings allow to define the right area where an effect should be applied, which helps in processing multiple images of different sizes.

ReaJPEG features

Download and try ReaJPEG for free!

If you have any questions on how to use our batch photo editor and converter ReaJPEG, please refer to our support section for description on available support options and our contact information.