ReaJPEG: resize, crop, rotate your photos
ReaJPEG is a great tool for performing different kinds of photo editing, such as photo resizing, cropping, addition of watermarks, borders, color adjustments, application of artistic and geometric effects, red eye removal and many more.

Image enhancements: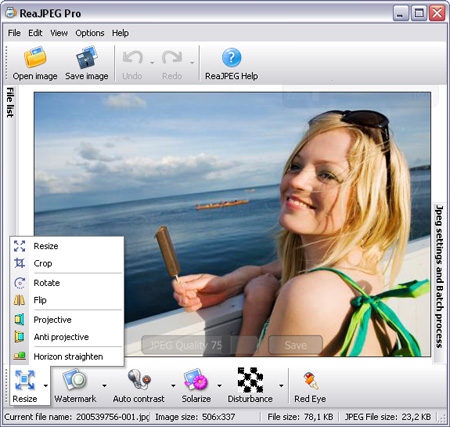 Resize Use the Resize option to enlarge or reduce the size of your pictures. You can set the new size by either dragging the edges of the frame or by editing the picture width and height (both in pixels and percentage). Either way, you can also select whether to keep or ignore the aspect ratio.
Crop If you would like to get rid of some unwanted objects in the background, or need just a part of a picture, you can crop it. Use the Crop option to crop images/photos from the top, from the left side, or to the specified width and height.
Rotate The Rotate option will help you to rotate your images at any desired angle and select their background color.
Flip With the Flip option you can have your pictures inverted vertically and horizontally. Vertical flip mirrors the pictures upside-down. Horizontal flip mirrors them from the right to the left and vice versa.
Projective * With the Projective option you can turn your pictures into free-form "rectangles", so it feels as if you are looking at them in perspective.
Anti projective * You can use the Anti projective option to fix pictures (for example, posters) taken from a poor perspective.
Horizon straightening * If your pictures are skewed, you can fix them with the use of the Horizon straightening option.
Additional settings: More settings available for the Resize, Rotate, Projective, Anti projective and Horizon strengthening options include Lanczos resampling, Linear resampling, Mitchell resampling and Nearest resampling. Resampling changes the number of pixels in an image, and is used to achieve a better output when the image size is in any way changed. Additional settings available for the Crop option are primarily helpful for batch image/photo processing, and allow to choose whether to crop multiple images from the top left corner or from the sides.

* - All features marked with an asterix are available in ReaJPEG Pro edition only.

ReaJPEG features

Download and try ReaJPEG for free!

If you have any questions on how to use our batch photo editor and converter ReaJPEG, please refer to our support section for description on available support options and our contact information.