Red eye
To use Red eye you may use
Edit - Red
eye at the
Menu bar
or click
Red eye
at the
Process toolbar
. Here is Red eye option menu: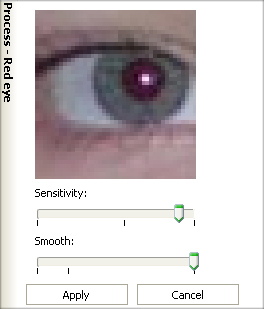 Select the area at the image where you want to remove red eyes. For your convenience there are settings you may change to achieve the maximal effect. Change the value of Senstiivity and Smooth to get the needed result.
Click Apply or Apply to batch if you want to apply changes to one file or to the batch. If you don't like effect, use CTRL+Z combination or Edit -> Undo from the menu bar to move back to the original image. Choose the quality of the output JPEG file:

And click Save.

Download and try ReaJPEG for free!