Levels
This option allows you to correct the tonal range and color balance of an image. You may adjust intensity levels of image shadows, midtones and highlights. You may click
Edit
at the
Menu bar
or click
Adjustments
at the
Process toolbar
and choose
Levels
.
Here is Levels dialog box: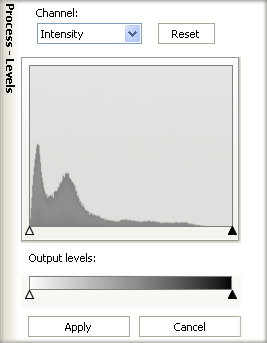 As Levels dialog box opened you can see the preview of the result at the Preview area.
Click Apply you want to apply changes to one file. If you don't like effect, use CTRL+Z combination or Edit -> Undo from the menu bar to move back to the original image.
Choose the quality of the output JPEG file:

And click Save.

Download and try ReaJPEG for free!