Traffic Usage Policy overview
ReaSoft Network Firewall allows you to create rules to count traffic used by your network clients with high accuracy. Traffic is counted for each rule independently of other rules. ReaSoft Network Firewall allows you to monitor the traffic usage statistics from any computer on your network. To do it, just open the browser and enter the host name or IP address of your gateway and port 2200 into the address bar.
The statistics both for each client and for all rules in the system is available. You can use the "display statistics for users" property to forbid showing the statistics of some rules to clients.
Related Topics
Remote monitoring
Traffic Usage rules


affordable and business-ready solutions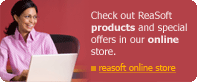 For fastest service you can purchase ReaSoft Network Firewall from our secure online store:
Online Store


ReaSoft Network Firewall additional info
Features
Screenshots
Technical support
Online help file
Download
Buy Now!
News-list:
product updates, new releases