Traffic usage rules
Separate users, separate network objects and whole subnets can be used as clients and destinations of these rules. The program counts traffic for each rule independently of other rules.
If there is a quota set for a rule, the operation specified in the properties of the quota will be performed when the specified limit is reached. Traffic Usage rules can be disabled. A rule in this status does not count the traffic by the specified criteria.
Use the section Monitoring: Traffic Usage to monitor the statistics of traffic usage rules. To view the detailed statistics of traffic usage, you should click Detailed Statistics in the section Monitoring: Traffic usage.
Related Topics
Traffic counting types
Monitor Traffic usage


affordable and business-ready solutions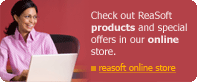 For fastest service you can purchase ReaSoft Network Firewall from our secure online store:
Online Store


ReaSoft Network Firewall additional info
Features
Screenshots
Technical support
Online help file
Download
Buy Now!
News-list:
product updates, new releases