ReaSoft Network Firewall: online help file
Introducing ReaSoft Network Firewall
ReaSoft Network Firewall allows you to connect corporate local area networks to the global networks such as Internet; control access to networks; ensure the security of local area networks; and also control the work of LAN users.
The corporate firewall included in ReaSoft Network Firewall allows you to assign different access rights and also protects the local area network against unauthorized access and external attacks. The unique Stateful Packet Inspection technology (ACC technology) guarantees high security for connections.
The NAT technology implemented in ReaSoft Network Firewall protects internal servers and workstations against malicious access. At the same time, it provides any client applications with unlimited access to resources in public networks.
The ReaSoft Network Firewall traffic control system makes it possible to keep the exact record of traffic used by users, separate computers or whole subnetworks. The flexible system of quotes offers a wide range of settings for possible actions when the traffic limit is exceeded.
The ReaSoft Network Firewall control panel provides you with the most simple and convenient interface for configuring all system components.
ReaSoft Network Firewall can be installed on Microsoft Windows 2000/XP/2003.
Reasoft Network Firewall: online help
Please refer to our
support section
for description on all available support options and our contact information.


affordable and business-ready solutions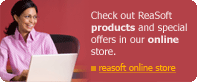 For fastest service you can purchase ReaSoft Network Firewall from our secure online store:
Online Store


ReaSoft Network Firewall additional info
Features
Screenshots
Technical support
Online help file
Download
Buy Now!
News-list:
product updates, new releases