Remote monitoring
ReaSoft Network Firewall allows you to monitor the statistics of traffic usage from any computer on your network. To do it, just open the browser and enter the host name or IP address of your gateway and port 2200 into the address bar.
Example: http://your.server.hostname:2200 or http://12.34.56.78:2200
It is possible to view statistics in two modes: statistics for all rules and statistics for the current client. Statistics for all rules is available only to the ReaSoft Network Firewall administrator. You should use the administrator password for your authentication to be able to view statistics for all rules.
For a client, the rule statistics section displays only those rules that are set for the client the request to the statistics server was made from. If "display statistics for users" checkbox is not set in the properties of a traffic usage rule on the server, statistics for this rule will not be displayed for the client in the client rule statistics.


affordable and business-ready solutions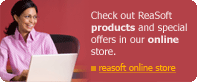 For fastest service you can purchase ReaSoft Network Firewall from our secure online store:
Online Store


ReaSoft Network Firewall additional info
Features
Screenshots
Technical support
Online help file
Download
Buy Now!
News-list:
product updates, new releases