Traffic usage
The section of monitoring statistics of traffic usage rules contains the list of all active traffic usage rules and also the statistics available for them. The statistics is updated automatically in real time. It is possible to see it for a day, a week, a month, for the entire period or for any period of time. It is possible to view the detailed statistics by hours - for the last week, by days - for the last three months, by months - for the last six months.


affordable and business-ready solutions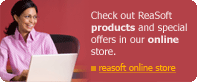 For fastest service you can purchase ReaSoft Network Firewall from our secure online store:
Online Store


ReaSoft Network Firewall additional info
Features
Screenshots
Technical support
Online help file
Download
Buy Now!
News-list:
product updates, new releases