Quotas
Quotas are used to specify limits of traffic usage and what should be done when these limits are reached. Quotas are set for
Traffic usage rules
. Limits can be specified both for a certain period of time (day, week, month) and for a custom period (for example, from May 1 till May 10). You can specify the following operations for each quota when its rule reaches the traffic usage limit:
Warning only
Block traffic
Related Topics


affordable and business-ready solutions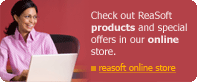 For fastest service you can purchase ReaSoft Network Firewall from our secure online store:
Online Store


ReaSoft Network Firewall additional info
Features
Screenshots
Technical support
Online help file
Download
Buy Now!
News-list:
product updates, new releases