Network relationships overview
The architecture of ReaSoft Network Firewall is based on the principle of splitting the entire network into logical objects of Private and Public networks. A Network object is a logical representation of the physical network topology. The network is connected to a certain network interface (NIC) and is defined as one or several ranges of IP addresses. IP address ranges of Private networks do not overlap. So each object defined in the system belongs to one Private or all Public networks.
When you split the entire network into Private and Public networks, it becomes necessary to specify how objects from different networks will interact with each other. Network Relationship rules are used in the system for that. Network rules define only the existence of interaction between networks. To configure access from one network to another, you should specify Firewall Policy rules.
Related Topics
Network Address Translation (NAT)


affordable and business-ready solutions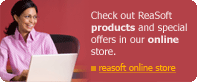 For fastest service you can purchase ReaSoft Network Firewall from our secure online store:
Online Store


ReaSoft Network Firewall additional info
Features
Screenshots
Technical support
Online help file
Download
Buy Now!
News-list:
product updates, new releases