Network Address Translation (NAT)
NAT is a technology that allows you to use one external address for all LAN clients to be able to work in the external network. NAT allows to hide the addresses of the internal network and makes it possible to use any number of addresses inside the network because they do not conflict with the same addresses from other local area networks worldwide.
With installed ReaSoft Network Firewall, you will need only one external IP address to be able to establish a full-featured connection to such a public network as the Internet. Private network clients will be able to access any resources from the public network. At the same time, it is impossible to directly access private network clients from the public network.
When private network clients access resources from the public network via ReaSoft Network Firewall, their IP addresses are translated. And the addresses of clients are replaced with the address of the ReaSoft Network Firewall server network adapter that is connected to the public network.
With the NAT technology available in ReaSoft Network Firewall, no special client configuration is needed to be able to set up Internet access. It is necessary only to set the ReaSoft Network Firewall server as a gateway.
You should use the groups of private IP addresses specifically defined in RFC 1918 while building local area networks.
Class A: 10.0.0.0-10.255.255.255
Class B: 172.16.0.0-172.31.255.255
Class C: 192.168.0.0-192.168.255.255
These IP addresses are not used in global networks, which will allow you to increase the security of access to your data.


affordable and business-ready solutions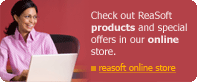 For fastest service you can purchase ReaSoft Network Firewall from our secure online store:
Online Store


ReaSoft Network Firewall additional info
Features
Screenshots
Technical support
Online help file
Download
Buy Now!
News-list:
product updates, new releases