Licensing policy overview
There are two types of licenses for ReaSoft Network Firewall: Evaluation License and Standard License. The Evaluation License is given for evaluating each version of the product within 35 days (trial period). The program has no any limitations during the trial period. You must purchase the Standard License to be able to use ReaSoft Network Firewall after the trial period.
You can purchase the Standard License either from ReaSoft Network Firewall website or from our official partners. The Standard License includes Access Licenses (ALs) and the Updates Subscription. Access Licenses (ALs) allow private network clients to connect to the services on the server with installed ReaSoft Network Firewall. An AL is necessary for each device with an IP address in your network.
Related Topics
Purchase ReaSoft Network Firewall


affordable and business-ready solutions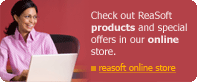 For fastest service you can purchase ReaSoft Network Firewall from our secure online store:
Online Store


ReaSoft Network Firewall additional info
Features
Screenshots
Technical support
Online help file
Download
Buy Now!
News-list:
product updates, new releases