Purchase
You can purchase a license for using ReaSoft Network Firewall at the official
ReaSoft Network Firewall website
or from official partners. To buy a license, you need to know the number of Access Licenses for your network.
Update license
If your business is expanding and you need additional Access Licenses (ALs) you can order them using a special form on the purchase page. Once you have made the payment, a confirmation letter will be sent to your email address. You will need to reactivate ReaSoft Network Firewall using your activation key.
Related Topics


affordable and business-ready solutions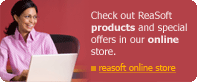 For fastest service you can purchase ReaSoft Network Firewall from our secure online store:
Online Store


ReaSoft Network Firewall additional info
Features
Screenshots
Technical support
Online help file
Download
Buy Now!
News-list:
product updates, new releases