Count Access Licenses
How many Access Licenses do I need for my network?
To count the necessary number of Access Licenses, you should count all devices with an IP address in your networks:
All workstations in your local networks
All servers in your perimeter networks (DMZ)
All VPN clients connected to your network
Server with installed ReaSoft Network Firewall
If you have questions regarding the required number of ALs, contact our
support service
for help.
Related Topics
Purchase ReaSoft Network Firewall


affordable and business-ready solutions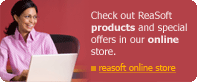 For fastest service you can purchase ReaSoft Network Firewall from our secure online store:
Online Store


ReaSoft Network Firewall additional info
Features
Screenshots
Technical support
Online help file
Download
Buy Now!
News-list:
product updates, new releases