Online support
Technical support is available for all users. Registered users receive answers to their requests within 24 hours. This time increases to 48 hours for unregistered users. In fact, 75% of requests are answered within several hours. We do not send automatic replies to your letters.
Related Topics


affordable and business-ready solutions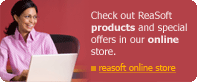 For fastest service you can purchase ReaSoft Network Firewall from our secure online store:
Online Store


ReaSoft Network Firewall additional info
Features
Screenshots
Technical support
Online help file
Download
Buy Now!
News-list:
product updates, new releases