Contacts
E-mail
Use email for general questions and suggestions. Use the contact forms on the support page for reporting technical issues and suggestions.
info@reasoft.com
Post Address
Pacific Business Centre Attn: ReaSoft Development P.O. Box 34069 #381 Seattle, WA 98124-1069 USA Fax: +1-206-984-3919 (Attn: ReaSoft Development)


affordable and business-ready solutions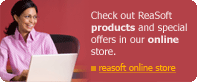 For fastest service you can purchase ReaSoft Network Firewall from our secure online store:
Online Store


ReaSoft Network Firewall additional info
Features
Screenshots
Technical support
Online help file
Download
Buy Now!
News-list:
product updates, new releases