Saving/Loading process list
This window shows your applied batch edits: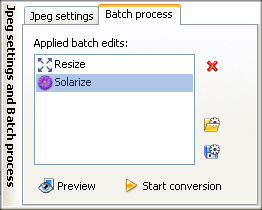 It is possible to delete the process you don't want to be applied by clicking on the red cross - Delete process button.
To save process list click on the Save list button.

Choose the directory, the process list will be saved as a file with the .rpl extension.

Enter new file name and click Save.
Later, you can load the process list, your entire applied batch edits and settings for each action will be restored:
Click Load process list button to load process list.

Choose the file you want to open.

Click Open.

Download and try ReaJPEG for free!