User/Group settings
Here you may manage ReaSoft PDF Printer user's/group's settings. First of all select needed user or group from the
Users/Groups list
. As you selected at the right side of the tab the following menu appears: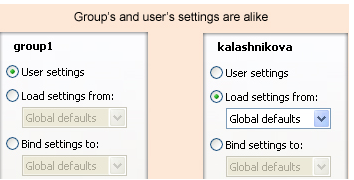 User settings. This option leaves printer settings for the selected user unaltered. User has full control over his printer settings.

Load settings from. Use this option to change user printer settings once. User settings are read from global settings or file. This is done next time user accesses the printer. After that user has 'user settings' option again.

Bind settings to. Use this option to permanently set user printer settings to that of global settings or file. User cannot change his printer settings.
To open
Help topics
click
Help
button.
To load settings you saved before click Load settings from file button.
To save current settings click Save settings to file button.
As soon as you customized the settings you wanted click Apply to make your new settings be applied.

Download and try ReaSoft PDF Printer for free!