Users/Groups list
You may always view what users have access to ReaSoft PDF Printer SE, add new users and gather them into groups.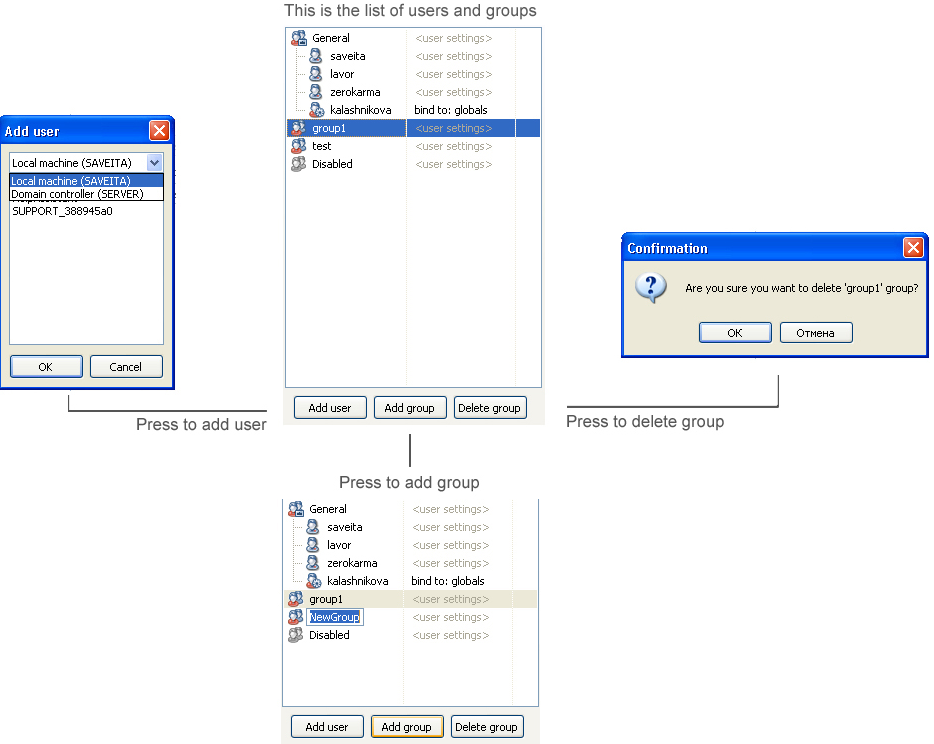 As ReaSoft PDF Printer SE edition is multi-user software it is very important that each user can have their own settings with the printer or you can configure ReaSoft PDF Printer so that users would be divided into groups with the same settings in the group.
Talking about the groups one can't mention the Disabled group. The insiders of this group are those users who have no license or no access to the printer. If you want to deny access to ReaSoft PDF Printer to any user that is not in any group at the moment please follow the instruction: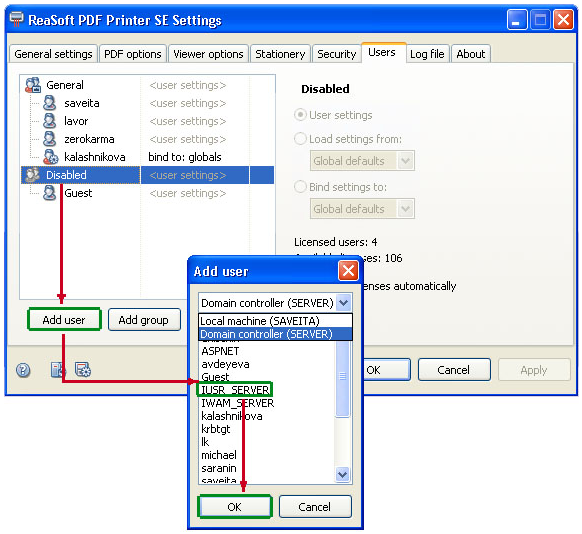 If you want to transfer user from any group to the Disabled just drag this user with the help of the mouse. To turn it back choose the needed user from the Disabled group and drag him to any other group with the help of the mouse.
As you know there is unlimited amount of users in the trial version of ReaSoft PDF Printer and every user get access to the software (except those you placed to the Disabled group); after the trial period is over and a licenses for some number of Work Stations was purchased the users are being divided in a random manner into two groups: Licensed users and Disabled users. This happens only if the amount of users is more then the amount of Work Stations available in your license.
Please note: When you add licensed user to the disabled group the amount of the Available licenses increases by one more license and vice versa if you add someone from the Disabled group to any other the amount of Available licenses decreases by one.
To open Help topics click Help button.
To load settings you saved before click Load settings from file button.
To save current settings click Save settings to file button.
As soon as you customized the settings you wanted click Apply to make your new settings be applied.

Download and try ReaSoft PDF Printer for free!