Public Networks
Public Networks define external untrusted networks. To define a Public Network in the system, you need to specify only NIC the Public Network is connected to.
The range of IP addresses for a Public Network includes all IP addresses without the IP addresses of Private Networks defined in the system.
Public Networks cannot act as a source for Network Rules (rules defining interaction between networks). Public Networks can be used in any other rules. You should use Public Networks to specify general untrusted networks, such as the Internet.
It is possible to specify several Public Networks in the system. For example, if you connect to several different ISPs.


affordable and business-ready solutions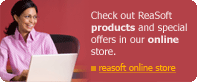 For fastest service you can purchase ReaSoft Network Firewall from our secure online store:
Online Store


ReaSoft Network Firewall additional info
Features
Screenshots
Technical support
Online help file
Download
Buy Now!
News-list:
product updates, new releases