Connections
The section of monitoring connections is used to monitor all connections established to the ReaSoft Network Firewall server. The connection list is updated in real time. The list shows all active connections from the moment when monitoring was started. It is necessary to monitor connections during the configuration of the system and for detecting problems in the network.
Starting and stopping monitoring Connections.
To start monitoring connections, click the Start

on the toolbar. Click the Pause

to pause monitoring. When paused, the session list will remain available for analysis and connections will not be automatically updated. You can use the Reload button to update the list. Click the Stop

to stop monitoring. It will clear the connections list.


affordable and business-ready solutions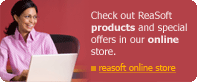 For fastest service you can purchase ReaSoft Network Firewall from our secure online store:
Online Store


ReaSoft Network Firewall additional info
Features
Screenshots
Technical support
Online help file
Download
Buy Now!
News-list:
product updates, new releases