Firewall Access rules
Firewall Access rules define the rules of client access from one network to another. Rules are specified in the form of an ordered list. The first matching rule will be used in the process of checking connections.
You can use Networks, Users, Computers, IP ranges and their groups as sources and destinations in Firewall Access rules. Each rule can contain more than one source, destination and protocol.
ReaSoft Network Firewall contains the set of the most popular protocols that are used in Firewall Rules. You can specify additional protocols yourself. It is not recommended to edit the protocols predefined in the system.
Predefined firewall policy rules are always applied before User-defined firewall policy rules. To redefine Predefined firewall policy rules, you have to disable them.


affordable and business-ready solutions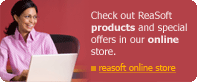 For fastest service you can purchase ReaSoft Network Firewall from our secure online store:
Online Store


ReaSoft Network Firewall additional info
Features
Screenshots
Technical support
Online help file
Download
Buy Now!
News-list:
product updates, new releases