Backup and Restore
To increase the reliability of the server, ReaSoft Network Firewall allows you to back up the configuration in order to restore it later in case of failures or damages. The procedure of backing up and restoring the configuration is very simple and takes several minutes. The configuration is saved as an XML file to any folder on a network drive or on the hard drive.
It is recommended to save backup files to a folder that only ReaSoft Network Firewall administrators can access.
Backing up the configuration
ReaSoft Network Firewall backs up all necessary configuration settings: network objects, rules and statistics if specified. The administrator password is not saved when a configuration backup is created. It is recommended to create a backup after each major change in the configuration.
Restoring the configuration
While restoring the configuration, you can load either the configuration from a previously created backup file or the default configuration.
Related Topics
Backup Configuration
Restore Configuration


affordable and business-ready solutions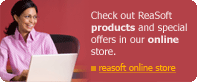 For fastest service you can purchase ReaSoft Network Firewall from our secure online store:
Online Store


ReaSoft Network Firewall additional info
Features
Screenshots
Technical support
Online help file
Download
Buy Now!
News-list:
product updates, new releases