Using ReaTIFF: Single Image mode
With the ReaTIFF Single Image mode you can convert your images to TIFF one by one. Usually you should use this mode when you have just a few images to convert and you want to apply some image processings to each individual image. Typical usage of Single Image mode looks like this:
Open your source image with "Open image" button or just drag-and-drop it from Windows Explorer.
(optional) Apply image processings as needed. ReaTIFF image editor provides several popular image manipulation functions, including resize, crop, rotate, mirror, brightness, contrast, border, watermark, red eye correction and a dozen of various artistic effects.
(optional) Adjust TIFF compression method if needed.
Save your resulting image with "Convert and Save" button.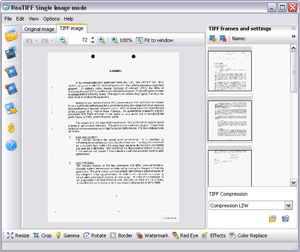 ( click on image to see larger picture )

ReaTIFF online help file

Download and try ReaTIFF for free!
If you have any questions or suggestions, feel free to contact our
technical support
.