Step 1. Basic settings
ReaSoft PDF Printer Lite Wizard allows you to configure ReaSoft PDF Printer Lite edition.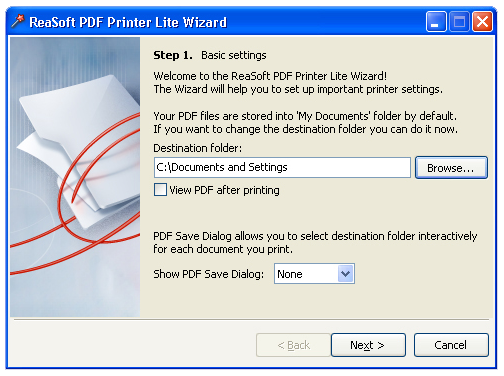 Basic settings include the following:
Destination folder. By default your PDF files will be stored at My documents folder. You may change the destination folder with simple click on Browse button. Choose the most convenient for you folder to store your PDF data.

View PDF after printing. If this radio button is chosen your PDF file will be opened immediately after printing.

Show PDF Save Dialog. If the PDF Save Dialog option is set to None, your document will be saved as PDF automatically. If it is set to Simple, you will be able to interactively choose the saving folder every time you print a PDF document. With the Advanced PDF Save Dialog, you will be able to preview your PDF output, add bookmarks, identify your document (add title, subject, author, keywords), modify default PDF and Viewer options, choose how to recognize web links, add stationary, protect your PDF files. Besides, you will be able to save several files to a single multipage PDF file, navigate PDF pages, save your settings (or load already saved ones), and select whether to save your document or send it by e-mail.
It is also possible to change all these settings using
ReaSoft PDF Printer Lite Settings
dialog box,
General settings
tab. As soon as you specify basic settings click
Next
button to go forward. If you want to cancel ReaSoft PDF Printer Wizard click
Cancel
button.

Download and try ReaSoft PDF Printer for free!