Convert TIFF files into JPEG with ReaJPEG.
TIFF:
The Tag Interchange File Format is a tag-based format, which used for bitmap images. The TIFF format is complex, so TIFF files are generally larger than JPEG files.
JPEG: JPEG supports 24 bits of color information, and is most commonly used for photos and similar continuous-tone bitmap images. JPEG was designed so that changes made to the original image during conversion to JPEG would not be visible to the human eye.
Simple renaming the extension from TIFF (.tif) to JPEG (.jpg) is not a way to change this different formats. Convert TIFF to JPEG with ReaJPEG!
ReaJPEG - Image Converter from TIFF to JPEG.
ReaJPEG is our popular image converter, allowing you to convert images from most commonly used graphic formats to JPEG. You can convert you images to JPG either one by one or all at once as a batch job.
Built-in image editor provides several popular image manipulation functions, including resize, crop, rotate, mirror, brightness, contrast, border, watermark, red eye correction and a dozen of various artistic effects.
For example, you can convert a folder of TIFF images to JPEG, resize them, change the color depth, apply a watermark and add a prefix to the file name - all in a single step.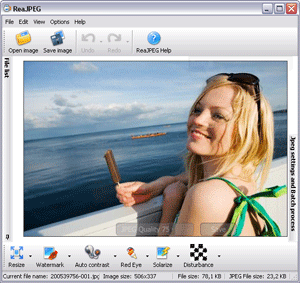 Download ReaJPEG and convert TIFF to JPEG now! ( 8.8Mb )


affordable and business-ready solutions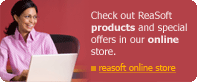 For fastest service you can purchase ReaJPEG from our secure online store:
Online Store


ReaJPEG additional info
Features
Screenshots
Supported formats
Technical Support
Online help file
Download Now!
News-list:
product updates, new releases