How to convert TIFF to JPG (JPEG)
TIFF
: The Tag Interchange File Format is a tag-based format that was developed and maintained by Aldus (now Adobe). TIF, which used for bitmap images, is compatible with a wide range of software applications and can be used across platforms such as Macintosh, Windows, and UNIX. The TIFF format is complex, so TIFF files are generally larger than GIF or JPG files. TIFF supports lossless LZW (Lempel-Ziv Welch) compression; however, compressed TIFFs take longer to open.
Renaming TIFF extension to JPG doesn't make your file work. Convert your tiff files with ReaConverter -
batch image converter
with 400+ supported image formats.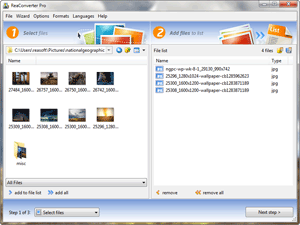 ReaConverter - Batch TIFF Converter
ReaConverter makes TIFF to JPG conversion simple. ReaConverter can convert not only single .tif images, but also perform batch .tif to .jpg conversion - a real treasure for those who have to process hundreds or thousands of TIFF images.
With ReaConverter you can not only convert TIFF to JPG, but also edit images before saving. As an example, you can crop,
resize images
, change the color depth, make a watermark, rename - everything at the same time.
ReaConverter can also create thumbnail images, save image editing actions to use them again. All the features are also available right from
command line
.

Download TIFF Converter Now!
(34.8Mb)
Change TIFF to JPG with ReaConverter:
Here you can find simple steps to convert TIFF files:
Download and install ReaConverter from the link below:
http://www.reasoft.com/downloads/ReaConverter.exe ( 34.8Mb )


Open ReaConverter and select TIFF files you want to convert.


Choose image editing actions. You can test every image editing on a test image and apply them to all your TIFF files.


Specify save parameters: select the extension to save your TIFF images, select naming rules, image quality, size, output folder and push "Start conversion" button to make your tasks.
Advanced users can do the same using command line utility in manual, automated or scheduled mode. You are welcome to contact our technical support staff when you have any questions about ReaConverter.
Online TIFF conversion:
If you want to convert only several tif images, you can try
Imverter - free online tiff converter
.