How to convert RAW to JPEG, TIFF, PNG or other image format
RAW
- A camera raw image file contains minimally processed data from the image sensor of either a digital camera, image scanner, or motion picture film scanner. Raw files are so named because they are not yet processed and therefore are not ready to be printed or edited with a bitmap graphics editor.
Simple renaming RAW extension wouldn't make it work. Convert RAW to JPG, PNG or TIFF image with
ReaConverter
.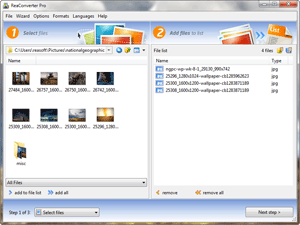 ReaConverter - Professional RAW Converter
ReaConverter is the essential solution for professionals and amateurs, digital artists and digital photographers, web masters and designers. It supports
400+ graphic formats
, including
RAW
.
ReaConverter can convert not only single images, but also perform batch RAW image conversion - a real treasure for those who have to process hundreds or thousands of RAW images.
ReaConverter offers a lot of ways to process images, and everybody can customize it to his or her liking using default mode, console mode or right click processing. It also supports third-party Photoshop plug-ins and effects, so it is simple to make any image or a batch of images look stunningly creative. Apart from this, ReaConverter gives ample scope for image editing, as it supports a great variety of editing and adjustment operations.
Online RAW conversion:
If you want to convert only several RAW photos, you can try
Imverter - free online RAW converter
.
Change RAW to JPEG, TIFF or other image format with ReaConverter:
Here you can find simple steps to convert batch of RAW files.
Download and install ReaConverter from the link below:
http://www.reasoft.com/downloads/ReaConverter.exe (34.8Mb)


Open ReaConverter and load your RAW files into it.


Use Next step to apply image editing features or skip this step.


Choose the extension you want save your RAW files, folder to save in, naming rules and other features. Push the "Start conversion" button and ReaConverter will convert all your RAW files automatically.

Download RAW Converter Now!