How to convert NEF to JPEG image
NEF
is a raw image format used by Nikon digital cameras, it contains minimally processed data from the image sensor of a Nikon digital camera. Raw files are so named because they are not yet processed. NEF image can be converted by a ReaConverter in single or batch mode to a regular file format such as TIFF or JPEG for storage, printing, or further manipulation.
Simple renaming NEF extension wouldn't make it work. Convert NEF image to JPG with ReaConverter.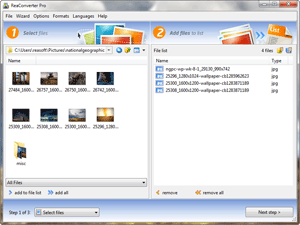 ReaConverter - Professional NEF Converter
ReaConverter batch photo editor is an ideal way for creative digital photography enthusiasts and photographers to get greater results from the taken pictures in an easy, fast and low-cost manner. ReaConverter supports
variety
of graphic formats, including NEF.
As a batch photo editor, ReaConverter offers all essential
photo editing
techniques, the most helpful being resizing, cropping, adjusting photo color, removing unwanted red-eye effect, applying artistic effects, watermarking, etc.

Download NEF Converter Now!
(34.8Mb)
Change NEF to JPEG, TIFF, PNG
Here you can find simple steps to convert batch of NEF files:
Download and install ReaConverter from the link below:
http://www.reasoft.com/downloads/ReaConverter.exe ( 34.8Mb )


Open ReaConverter and load your NEF files into it.


You can easily edit your NEF image with any editing tools you like.


Choose the extension you want save your NEF files, folder to save in, naming rules and other features. Push the "Start conversion" button and ReaConverter will convert all your NEF files automatically.
Advanced users can do the same using command line utility in manual, automated or scheduled mode. You are welcome to contact our technical support staff when you have any questions about ReaConverter.
Online NEF conversion:
If you want to convert only several NEF images, you can try IMVERTER:
free online NEF converter
.