Convert GIF to JPG, PNG, BMP
GIF
: The Graphics Interchange Format was originally developed by CompuServe in 1987. It is most commonly used for bitmap images composed of line drawings or blocks of a few distinct colors. The GIF format supports 8 bits of color information or less. In addition, the GIF89a file format supports transparency, allowing you to make a color in your image transparent. This feature makes GIF a particularly popular format for Web images.
Simple renaming the GIF extension is not a way to make it works as the another extension. Convert .gif to .jpg (JPEG) or other image format with ReaConverter,
batch image converter
that supports more than
400 graphic formats
.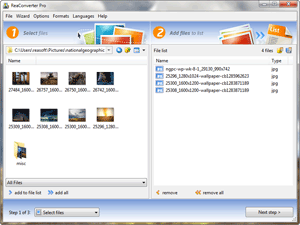 ReaConverter - Batch GIF Converter
Working with digital images it is usual problem to change the file extension to fork with. ReaConverter has been designed for this purpose. It also includes a lot of
image editing
features.
For example, you can resize a folder of images to half the original size, change the color depth, mirror, make a watermark - all at the same time.
If you need to convert a multi-page .gif image to the separate .jpg files, ReaConverter is the right choice for you. Just use ReaConverter Options for advanced Multipage settings.
Change GIF to JPG, JPEG, BMP, PNG, TIFF or other with ReaConverter
ReaConverter is a wizard-style utility that makes oft-recurring gif image editing and conversion as simple as pushing 'Start processing' button.
Download and install ReaConverter from the link below:
http://www.reasoft.com/downloads/ReaConverter.exe ( 34.8Mb )


Open ReaConverter and load your GIF files.


Add editing actions or skip this step if all that you need is just the extension change.


Select output format, output folder, naming rules for new files, its size and other features. Push start button - GIF converter will complete your conversion automatically.

Download GIF Converter for free!