How to convert Kodak FPX to JPG (JPEG), TIFF, PNG
Simple renaming Kodak FPX extension wouldn't make it work. Convert Kodak FPX image files with ReaConverter -
batch image converter
. It supports
variety
of graphic formats, including Kodak FPX.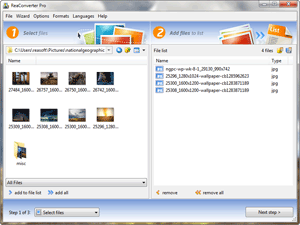 ReaConverter - Professional Kodak FPX Converter
ReaConverter batch photo editor is an ideal way for creative digital photography enthusiasts and photographers to get greater results from the taken pictures in an easy, fast and low-cost manner.
Being a convenient and powerful
batch image processing
tool, ReaConverter can be also effectively used for photo and image processing. It supports a wide variety of
editing operations
allowing you to create as high quality pictures as only possible.
The most helpful image editing: resizing, cropping, adjusting color balance, tone, removing unwanted red-eye effect, applying artistic effects, watermarking, etc.
Change Kodak FPX to JPG, TIFF, PNG, BMP or other format with ReaConverter!
Here you can find simple steps to convert batch of Kodak FPX files:
Download and install ReaConverter Pro from the link below:
http://www.reasoft.com/downloads/ReaConverter.exe


Open ReaConverter and and select Kodak FPX files you want to convert.


If you want edit your Kodak FPX images you can set editing actions.


Choose the extension you want save your Kodak FPX files, folder to save in, naming rules for new files, its size and other features. Push start button. Kodak FPX converter will complete your conversion automatically.


Download Kodak FPX Converter for free!
With ReaConverter you'll be able to convert any RAW images:
Convert ARW
·
Convert BAY
·
Convert BMQ
·
Convert CRW
·
Convert CS1
·
Convert DC2
·
Convert DCR
·
Convert DNG
·
Convert ERF
·
Convert FFF
·
Convert HDR
·
Convert IA
·
Convert K25
·
Convert KC2
·
Convert KDC
·
Convert MDC
·
Convert MOS
·
Convert MRW
·
Convert ORF
·
Convert PEF
·
Convert PXN
·
Convert RAF
·
Convert RDC
·
Convert SR2
·
Convert SRF
·
Convert FPX
·
Convert STI
·
Convert X3F
·
Convert Panasonic Lumix RW2