How to convert EPS to JPEG
Adobe's EPS (Encapsulated PostScript)
: file format can contain both vector and bitmap graphics, or it may consist of font definitions and drawing commands.
Simple renaming EPS extension wouldn't make it works. Convert EPS to JPG with ReaConverter -
batch image converter
that supports more than
400 graphic formats
.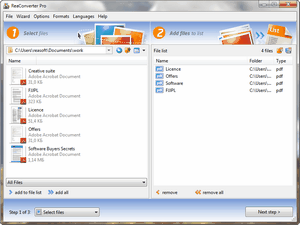 ReaConverter - Batch EPS Converter
ReaConverter makes EPS conversion and processing simple. With ReaConverter you can convert and edit batch of EPS images at the same time.
Being a convenient and powerful
batch image processing
tool, ReaConverter can be also effectively used for PostScript conversion and processing. It supports a wide variety of
image editing
operations allowing you to create as high quality pictures as only possible.
Advanced users can do the same using
right click
or
command line utility
in manual, automated or
scheduled
mode.
Convert EPS to JPG, TIF, PDF, GIF, PNG or other image format
Here you can find simple steps to convert batch of EPS files:
Download and install ReaConverter from the link below:
http://www.reasoft.com/downloads/ReaConverter.exe ( 34.8Mb )


Open ReaConverter and load your EPS files.


If you want edit EPS files while the conversion set editing actions.


Choose the extension you want save your EPS files, folder to save in, naming rules for new files, its size and other features. Push start button.

Download EPS Converter for free!