Step 3. Final settings
ReaSoft PDF Printer Standard Wizard is the same that ReaSoft PDF Printer Wizard. The Wizard allows you to configure ReaSoft PDF Printer Standard edition.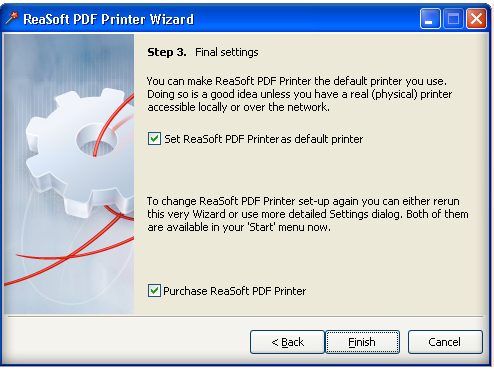 Final settings include the following:
Set ReaSoft PDF Printer Standard as default printer. If this radio button is chosen this means that you will get the quickest access to ReaSoft PDF Printer among other printers you have. Doing so is a good idea unless you have physical printer accessible nearly.

Purchase ReaSoft PDF Printer. After you click Finish button ReaSoft on-line store will be opened. Please note that registered users are provided with access to the latest product updates, technical support, free downloads and special offers.
As soon as you specify basic settings click
Finish
button to finish ReaSoft PDF Printer Wizard. If so all settings you made will be saved. Click
Back
button to move back and change something you want. If you want to cancel ReaSoft PDF Printer Wizard click
Cancel
button.

Download and try ReaSoft PDF Printer for free!