Security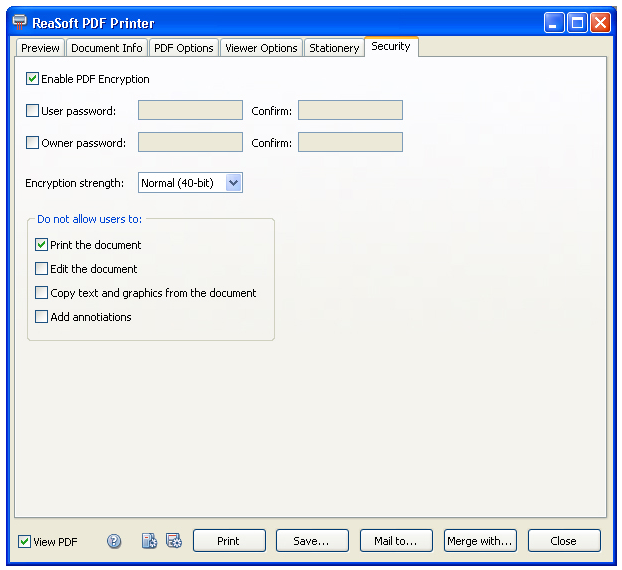 ReaSoft PDF Printer is software that allows it's user to create secure PDF documents by password protection and other limitations for different users of the product.

There could be different types of password - user password and owner password. To accept the password do not forget to enable the radio button near the needed one.

Please learn more about User/Owner password.
ReaSoft PDF Printer allows you to choose between two variants of encryption strength: You can choose between Normal encryption strength (40-bit key) and High (128-bit key):

Please learn more about Encryption strength.
ReaSoft PDF Printer also allows to set security options when you save the PDF document.

Please learn more about Security.

View PDF. Enable this radio button view the result PDF file after the printing process if finished.

Help button. Click this button to open Help topics.

Load settings from file. Use this button to load settings you saved before. Thus you may use the same settings you used before without customizing them again.

Save settings to file. This option allows you to save the settings you customized so that you could use them later.

Print... If you press this button the printing process will start immediately.

Save... With the help of this button you can customize the destination folder where the result of your printing will be saved.

Mail to... This option allows to send your PDF by e-mail after printing process is finished. Please note that you should have a postal client installed on your computer.

Close. Click this button to exit Advanced Save Dialog box.

Download and try ReaSoft PDF Printer for free!