PDF Options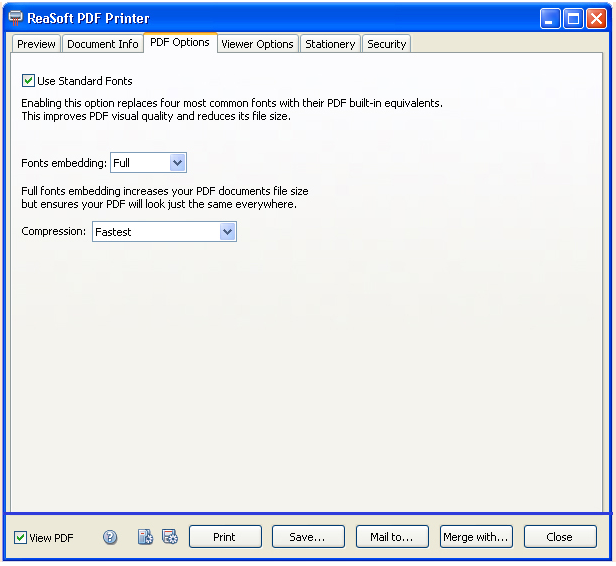 PDF viewing software automatically substitutes a font to display text if the font used to create the text is unavailable on the reviewer's computer. Enabling this option replaces for most common fonts with their PDF built-in equivalents. The PDF specification states that a standard set of 14 fonts will always be available when consuming PDF documents.

Please learn more about Standard Fonts using.
Whenever you create a PDF document, you'll always have the option of embedding fonts into that document. Whether you do (or do not) depends on several different criteria. Actually people use embed fonts more than 90 percent of the time. The primary cause for choosing not to embed when is trying to keep file sizes to a minimum. Not that fonts really add that much overhead, but 10K here and there can quickly add up to several megabytes.

Please learn more about Fonts Embedding.
There are several types of compression added to ReaSoft PDF Printer Lite to satisfy your needs:

Please learn more about Compression.

View PDF. Enable this radio button view the result PDF file after the printing process if finished.

Help button. Click this button to open Help topics.

Load settings from file. Use this button to load settings you saved before. Thus you may use the same settings you used before without customizing them again.

Save settings to file. This option allows you to save the settings you customized so that you could use them later.

Print... If you press this button the printing process will start immediately.

Save... With the help of this button you can customize the destination folder where the result of your printing will be saved.

Mail to... This option allows to send your PDF by e-mail after printing process is finished. Please note that you should have a postal client installed on your computer.

Close. Click this button to exit Advanced Save Dialog box.

Download and try ReaSoft PDF Printer for free!