Events and Alerts
ReaSoft Network Firewall has an event log with all events that take place during the work of the system. The event log is necessary to detect errors in the work of the system and to fix them quickly. Events are loaded into the log when you open the list. Click the Refresh button to refresh the event list. There are two types of events:
Security
and
System
.
Security events
The Security events log contains events that affect the system security. For example, changing the settings of the system, attempts to log into the system as the administrator, user authentication in the system with Firewall Security Client.
System events
System events reflect the internal work of ReaSoft Network Firewall. For example, the work of the ReaSoft Network Firewall engine, the work of the ReaSoft Network Firewall Service, events related to registering the software.


affordable and business-ready solutions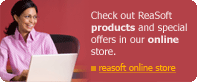 For fastest service you can purchase ReaSoft Network Firewall from our secure online store:
Online Store


ReaSoft Network Firewall additional info
Features
Screenshots
Technical support
Online help file
Download
Buy Now!
News-list:
product updates, new releases