System Requirements
You can see minimum system requirements necessary for ReaSoft Network Firewall to run in the table below. If there are more than 30 clients in your local area network, it is recommended to use a more powerful computer.
300 MHz Pentium II-compatible or faster processor.
Operating System
Microsoft® Windows® 2000
Microsoft® Windows® XP
Microsoft® Windows ServerTM 2003
Windows® 2000 Server
Memory
256 megabytes (MB) of RAM or more recommended.

Hard Disk

20 megabytes (MB) of available hard-disk space for the installation;
1 gigabyte (GB) of disk space for logging recommended

Network devices
Network adapter for communication with the Private network; one additional network adapter, modem, or ISDN adapter for each additional Public of Private network.
Microsoft® Windows® 2000/XP Home Edition allows only 5 simultaneous connections.
Microsoft® Windows® 2000/XP Professional Edition allows only 10 simultaneous connections.


affordable and business-ready solutions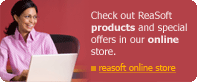 For fastest service you can purchase ReaSoft Network Firewall from our secure online store:
Online Store


ReaSoft Network Firewall additional info
Features
Screenshots
Technical support
Online help file
Download
Buy Now!
News-list:
product updates, new releases