ReaSoft Network Firewall Software Product End User License Agreement
THIS END USER LICENSE AGREEMENT ("Agreement") IS A LEGAL AGREEMENT BETWEEN YOU (EITHER AN INDIVIDUAL OR A SINGLE ENTITY) AND REASOFT COMPANY ("ReaSoft"). PLEASE READ THIS END USER LICENSE AGREEMENT CAREFULLY. BY INSTALLING, COPYING OR OTHERWISE USING SOFTWARE PRODUCT, INCLUDING ONLINE AND ELECTRONIC DOCUMENTATION, YOU AGREE TO BE BOUND BY THE TERMS OF THIS AGREEMENT. IF YOU DO NOT AGREE, DO NOT DOWNLOAD, INSTALL, COPY OR USE THE SOFTWARE PRODUCT.
General
This SOFTWARE PRODUCT is protected by copyright laws and international copyright treaties, as well as other intellectual property laws and treaties. Some graphical elements copyright by Microsoft (R) Corporation. The SOFTWARE PRODUCT is licensed, not sold. The SOFTWARE PRODUCT consists of product documentation, a Server Software and Client Software and collectively referred to herein as "SOFTWARE".
"Server Software" provides services or functionality on your server (your computers capable of running the Server Software are "Servers"); "Client Software" allows an electronic device ("Device") to access or use the Server Software.
Evaluation license grant
ReaSoft grants you a non-exclusive, non-transferable and not for resale license to use every new version of SOFTWARE for free during the thirty five (35) days after installation ("Trial Period"). During the Trial Period you may use the SOFTWARE for evaluation purposes only.
After the Trial Period expired, you must obtain a Standard License or uninstall the SOFTWARE and destroy all copies of the SOFTWARE in your possession or under your control.
Standart license grant
ReaSoft grants you Standard License after you pay the applicable license fee. License fee depends on amount of Access Licenses in Standard License. Amount of Access Licenses must be equal or greater then amount of Devices with IP address in your network.
Upon your payment of the Standard License fee, ReaSoft provides you with an activation number ("Activation Key") and grants you a non-exclusive, non-transferable, not for resale and perpetual license to use the Server Software and related documentation on a single computer strictly in accordance with the provisions of this agreement. Also, ReaSoft grants you a non-exclusive, non-transferable, not for resale and perpetual license to use the Client Software on any computer in your network.
You may move the Server Software to a different Server as long as you permanently remove the SOFTWARE from the initial Server.
If you desire to use the Server Software on more than one Server, additional Standard License must be obtained from ReaSoft.
Number of Devices that may have simultaneous access to the services of a Server running the Server Software must be equal or less then number of Access Licenses included to the Standard License.
If you add additional Devices with IP address to your network, you must obtain additional Access Licenses for those Devices to allow them access to the services of a Server running the Server Software.
An activation key is strictly confidential and personal to you and may not be disclosed to any third party. You agree not to purchase any activation keys or similar computer code for the SOFTWARE from any source other than ReaSoft or ReaSoft authorized partners.
Subscription
Subscription service includes updates to the new versions of SOFTWARE during the subscription period.
Termination
Without prejudice to any other rights, ReaSoft may terminate this Agreement if you are not in compliance with all the terms and conditions of this Agreement. In such event, you must uninstall and destroy all copies of the SOFTWARE and all of its component parts.
Disclaimer of warranties
NO WARRANTIES. THE SOFTWARE IS PROVIDED "AS IS" WITHOUT WARRANTY OF ANY KIND. TO THE MAXIMUM EXTENT PERMITTED BY APPLICABLE LAW, REASOFT DISCLAIMS ALL WARRANTIES, EITHER EXPRESS OR IMPLIED, INCLUDING, BUT NOT LIMITED TO, IMPLIED WARRANTIES OF MERCHANTABILITY AND FITNESS FOR A PARTICULAR PURPOSE AND ANY WARRANTY AGAINST INFRINGEMENT, WITH REGARD TO THE SOFTWARE.
THE SOFTWARE IS NOT DESIGNED, MANUFACTURED OR INTENDED FOR USE OR RESALE AS ON-LINE CONTROL EQUIPMENT IN HAZARDOUS ENVIRONMENTS REQUIRING FAIL-SAFE PERFORMANCE, SUCH AS IN THE OPERATION OF NUCLEAR FACILITIES, AIRCRAFT NAVIGATION OR COMMUNICATION SYSTEMS, AIR TRAFFIC CONTROL, DIRECT LIFE SUPPORT MACHINES, OR WEAPONS SYSTEMS, IN WHICH THE FAILURE OF THE SOFTWARE COULD LEAD DIRECTLY TO DEATH, PERSONAL INJURY, OR SEVERE PHYSICAL OR ENVIRONMENTAL DAMAGE. REASOFT SPECIFICALLY DISCLAIMS ANY EXPRESS OR IMPLIED WARRANTY OF FITNESS FOR SUCH PURPOSES.
Limitation of liability
TO THE MAXIMUM EXTENT PERMITTED BY APPLICABLE LAW, IN NO EVENT SHALL REASOFT OR ITS AUTHORIZED PARTNERS BE LIABLE FOR ANY SPECIAL, INCIDENTAL, PUNITIVE, INDIRECT, OR CONSEQUENTIAL DAMAGES WHATSOEVER (INCLUDING, BUT NOT LIMITED TO, DAMAGES FOR LOSS OF PROFITS OR CONFIDENTIAL OR OTHER INFORMATION, FOR BUSINESS INTERRUPTION, FOR PERSONAL INJURY, FOR LOSS OF PRIVACY, FOR FAILURE TO MEET ANY DUTY OF GOOD FAITH OR OF REASONABLE CARE, FOR NEGLIGENCE, AND FOR ANY OTHER PECUNIARY OR OTHER LOSS WHATSOEVER) ARISING OUT OF OR IN ANY WAY RELATED TO THE USE OF OR INABILITY TO USE THE SOFTWARE, THE PROVISION OF OR FAILURE TO PROVIDE SUPPORT OR OTHER SERVICES, INFORMATION, SOFTWARE, AND RELATED CONTENT THROUGH THE SOFTWARE, OR OTHERWISE UNDER OR IN CONNECTION WITH ANY PROVISION OF THIS AGREEMENT, EVEN IN THE EVENT OF THE FAULT, TORT (INCLUDING NEGLIGENCE), MISREPRESENTATION, STRICT LIABILITY, BREACH OF CONTRACT OR BREACH OF WARRANTY OF REASOFT OR ANY AUTHORIZED PARTNER, AND EVEN IF REASOFT OR ANY AUTHORIZED PARTNER HAS BEEN ADVISED OF THE POSSIBILITY OF SUCH DAMAGES. IN NO EVENT SHALL REASOFT AGGREGATE LIABILITY TO YOU EXCEED THE LICENSE FEE PAID BY YOU TO REASOFT HEREUNDER.


affordable and business-ready solutions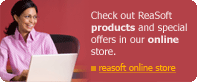 For fastest service you can purchase ReaSoft Network Firewall from our secure online store:
Online Store


ReaSoft Network Firewall additional info
Features
Screenshots
Technical support
Online help file
Download
Buy Now!
News-list:
product updates, new releases